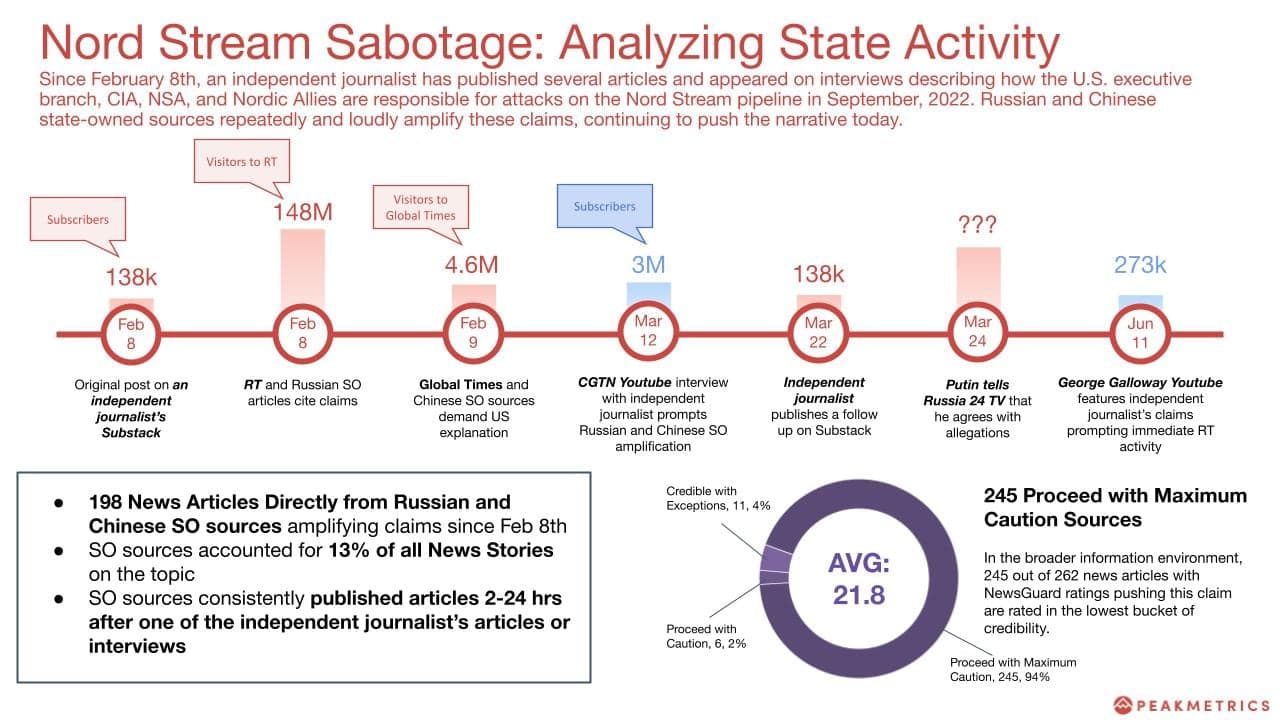 The Real Catalyst: Untangling Complex Narratives and the Influence of State-Owned Media on the Nord Stream Story
Dive into PeakMetrics' groundbreaking research on how narratives around the Nord Stream pipeline attacks have evolved. From state media to AI-generated content, our analysis offers invaluable insights into the complexity of today's information warfare.
In an era where information flows rapidly and freely, narrative threat intelligence has never been more crucial. PeakMetrics offers an unprecedented look into the state of global narratives. The New York Times
recently brought attention to the "Biggest Single Takedown" by Meta
, emanating from a Chinese Influence Campaign. The article references a Substack post from February 27th, creating a cascade of articles claiming that the United States was behind the bombing of the Nord Stream underwater pipelines.
PeakMetrics' research reveals additional context. We tracked State-Owned (SO) media activity from Russia and China that started several weeks before the February 27th post. This activity was triggered by an independent journalist's Substack article detailing U.S. involvement in the Nord Stream sabotage on February 8th.
The Independent Journalist Effect: A Narrative Catalyst
The moment the independent journalist's original Substack article went live on February 8th, it ignited a ripple effect. Russian media outlets, such as RT, Sputnik, and Tass Agency, were among the first to react, covering the story within mere hours of its release. In the days that followed, Chinese state-owned media outlets like Global Times, CCTV, Xinhua, and People's Daily, lent their voices to amplify the claims.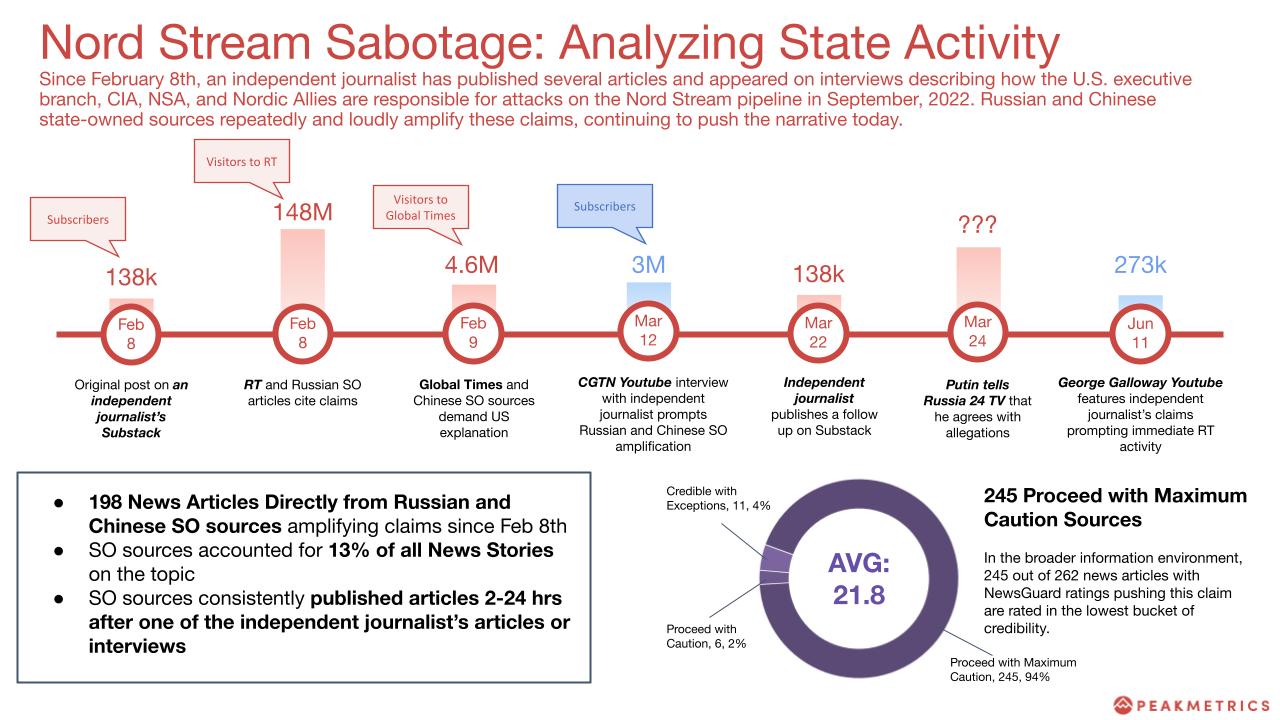 * Credibility scores based on NewsGuard ratings
The Importance of Timing: What the Data Reveals
What's fascinating here is the persistent, continued State involvement in this narrative. We're not looking at isolated articles or opinion pieces; we're talking about a well-coordinated information cycle that began on February 8th and continued unabated. Our data shows activity as recent as September 2nd as of the date this post was published (September 5th), indicating the longevity and impact of this information campaign.
According to Meta and the New York Times article, the broader information operations campaign was initially discovered in 2019 by Ben Nimmo, head of Meta's security team, and other researchers at Graphika, a company that studies social media.
Narrative Reaches a Diverse Audience
This activity is not limited to State Owned sources. PeakMetrics identified significant amplification in a number of social platforms, including Twitter, VK, Weibo, Reddit, Telegram, and Youtube. Posts were also in several languages, including Chinese, Russian, German, French, Hindi, and Polish. Conversations directly referenced State Owned sources such as CCTV, Russia Today, and TASS.

Beyond Traditional Media: The Role of Generative AI
Generative AI technologies have also joined the fray, adding another layer of complexity. In a world of deepfakes and AI-written articles, discerning reality becomes all the more challenging.
We cross-compared the Narratives we identified with social media distribution and identified several posts that were created by profiles suspicious of being deepfake images.
Elevating the Role of Informed Analysis
As we delve deeper into the complexities of state-controlled media, multi-lingual conversations, and advanced technologies like AI, a nuanced understanding is critical. This is about more than just knowing what stories are circulating; it's about comprehending how, where, and why these narratives take shape.
Our data-driven insights serve as an invaluable tool for entities ranging from governments to corporations, aiding them in navigating the convoluted landscape of modern information warfare.
Sign up for our newsletter
Get the latest updates and publishings from the PeakMetrics investigations team.