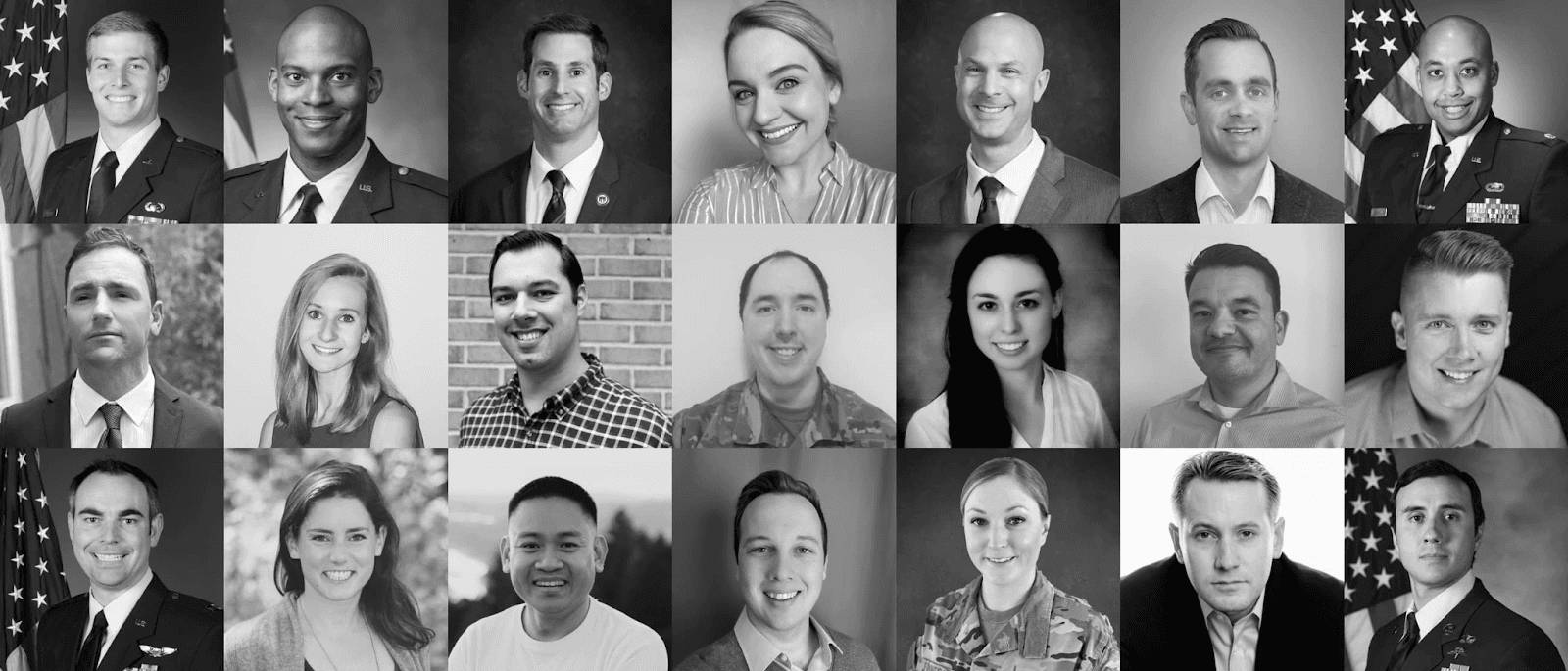 Insights from my Department of Defense Fellowship with PeakMetrics
Insights from my Department of Defense Fellowship
Defense Ventures Program Cohort 6 - Written by Captain Gabrielle Johnson
When my commanding officer suggested I apply to something called a "technology fellowship" for the Air Force, I couldn't imagine what an experience like that even meant at the time. I was intrigued by the prospect of a company offering a full-time program focused on innovation and networking with the private sector, so I decided to search for and apply to this fellowship program.
The company I was matched with through the fellowship is PeakMetrics, a dual-use startup which uses artificial intelligence to extract insights and create actionable data from millions of unstructured, cross-channel media datasets in real-time. It does this by aggregating all types of social and traditional media and then uses machine learning to predict how messages will develop and spread online. PeakMetrics, a Techstars backed company, has been battle-tested on some of today's most complex media issues – from responding to crisis management situations to combating state-sponsored disinformation.
The Defense Ventures Program at large is an eight-week immersive fellowship run by a company called Shift that allows fellows to broaden mindsets, develop an understanding of emerging technology, and build valuable relationships within the venture capital ecosystem that accelerate the innovation trajectory of the Department of Defense (DoD). The program accepts a limited number of fellows for each cohort and pairs them with either a prominent venture capital firm or a top-notch startup company. AFWERX - an Air Force program designed to encourage innovation and partnerships across the service - oversees the AFVentures Fellowship for the Air Force which is what introduced me to the opportunity.
In my time in the active duty Air Force, like many others I've come to understand that the Air Force and DoD at large need to modernize and do so quickly. My timing in this program comes as Air Force Chief of Staff Gen. Charles Q. Brown challenged our force to "accelerate change or lose" through a recent strategic guidance publication in 2020. Brown advocates for increased collaboration and communication with Congress, various components of the military, and with industry partners.
My timing in this program also comes on the heels of Gen. John W. "Jay" Raymond, Space Force Chief of Space Operations, stating that agility, scaling down, and speed are essential for the Space Force to organize to sufficiently counter emerging space threats to national security.
With this institutional backdrop in mind, the Shift/AFWERX partnership came to me at a unique point in my career as we witnessed the Air Force recognize the need for change and begin to ignite programs such as AFWERX in order to do so. AFWERX has three primary branches, AFVentures (the Defense Ventures Program), Spark, and Prime. Through collaboration and innovation engines such as Spark Cells, Spark Tanks, Challenges, Colliders, and Hubs, AFWERX aims to re-invigorate the innovative mindset and culture within the DoD. For me, Shift and AFWERX brought the words of Gen Brown and Gen Raymond to life as myself and other fellows were able to participate in accelerating the adoption of emerging technology within the DoD.
As an intelligence professional by trade, it is important to understand that participating in change and innovation at the level of this program is typically out of reach for the vast majority of enlisted and junior officers. My observation has been that the intelligence community, although widely relevant and necessary, does not adequately empower its members to think outside the box, push the boundaries of conventional or accepted practices, or create new practices and methodologies. Often this is because we are quite limited by an inordinate amount of customer requirements, leadership demands, and outdated expectations on product churning and deliverables. Shift is unique in the way that it extracts talented individuals with extraordinary potential from their regular duties and employs them full-time towards innovation and bridging gaps with the tech industry. My time at PeakMetrics opened my eyes to several actionable takeaways the DoD could adopt in its mission to modernize and advance as its missions require.
Lean Startup Applications for Continuous Innovation in the DoD
When I got to PeakMetrics, I was given The Lean Startup by Eric Ries as a gift. After informing me that much of their business model and operating methodology was based upon this book, I began to notice that even large organizations could stand to learn from a few of the lessons in this book. The following items are a few of those foundational principles which I saw embodied at PeakMetrics that I believe could benefit various organizations in the DoD.
Put out a "minimum viable product" (MVP) – So often we see slowed, stagnant, or cancelled projects because teams were not able to invent or produce a one hundred percent solution before unveiling their idea to leadership. Moreover, ideas that are approved tend to be on incredibly long timelines and are subject to excessive delays throughout their project lifespan. Ries and PeakMetrics have built on the concept of putting out a MVP and continuing to iterate from there.
The idea of an MVP revolves around the process of building, measuring, learning, and repeating in order to create a relevant product. Although the ideal in the DoD should often be to save as much time and money as possible (and in some ways this will always be necessary), many organizations are incapable of producing relevant products still because their schedule does not move quickly enough. Particularly in fields like my own, timeliness is very often directly linked to the relevance of the product. Waiting too long will often cause your customer base to continue to shrink indefinitely. For this reason, the DoD could benefit from using MVPs to produce products in a relevant and timely manner.
Be "lean" – This lesson centers on the idea of providing quick, responsive, thoughtful feedback to your customers and iterate as much as is necessary through the feedback you get from them. Although The Lean Startup is heavily biased towards the software industry, these approaches have proven to be effective and applicable to many other industries and are perhaps even more effective in organizations with heavy bureaucracy, regulations, and limitations.
Within the DoD, this idea of being lean has many applications spanning across organizations. In the intelligence career field, these applications range from improving production and reporting, developing better ways to get after collection requirements, and conveying emerging requirements and changes in otherwise slow-moving feedback loops.
Test out different best practices – Practices such as sprints, product backlog, and standups are often championed in the tech startup world. Ries teaches us to not be afraid to try new things in your organization; try to learn from your hypotheses as early and as often as possible using actionable metrics.
The DoD needs to delve deeper into this process of discovering potential, future capabilities, and innovative mindsets. As Ries puts it, "What is needed is a massive project to discover how to unlock the vast stores of potential that are hidden in plain sight in our modern workforce. If we stopped wasting people's time, what would they do with it? We have no real concept of what is possible.."
Enhancing and Sustaining an Internal Collaborative Environment
The DoD suffers from massive bureaucracy and size, aggressive turnover from leadership moving every year or two, and being spread out globally to the extent that communication is often slow and nebulous. Greater collaboration is needed within the DoD for multiple reasons. First is to ensure commands are getting the right tool and not just the first tool that gets pitched. Second, units across the force are not necessarily aware of what tools are being employed by similar or other functionally aligned units which potentially limits their efficiency and output. Third, and perhaps most importantly, greater collaboration is needed because the vast majority of personnel are disconnected from innovation practices and acquisitions within the DoD.
It is not surprising that there are many barriers to collaboration within the DoD. The Defense Acquisition University identifies a few of these natural and human barriers as related to ego, fears of working in a group, conflicting personalities, lack of trust, lack of transparency, and difficulty with collaboration tools. So how can we break down some of these walls? The broader, and more difficult shift that needs to occur is a cultural mindset. People tend to only be accustomed to working with those who appear immediately relevant to their mission and day-to-day needs.
In my opinion, one of the worst things the DoD has done has been to create leaders who demand solutions from those below them instead of crafting them themselves. Although there are many exceptions to this, it is unfortunately quite common that leadership is not equipped to participate or collaborate on problem solving themselves due to the rank and grade structure and expectations in the military. This is not ideal because the higher up you go in leadership, the more years of experience personnel have navigating and learning the processes that they are actually the most equipped to confront. I continue to resist this idea of tasking downward because I have observed that leadership expects solutions to bubble up to the top while simultaneously not recognizing that the people those ideas may come from are stifled; whether that is by lack of knowledge of DoD structures and processes, lack of empowerment by lower level leadership, or fear of failure and rejection from higher level leadership.
In part, this can be addressed by building time for projects and self-driven creation, such as Google's 20 Percent Rule in workplaces which allocates twenty percent of an individual's time to personal projects and creative development. It also means that leadership must recognize their part in driving change and not simply stand by whilst their subordinates try (and often fail) to bring a good idea to fruition. Last, better touch points needed for startups to access target DoD customers without a network. Continuing to funnel leaders into pipelines such as the Shift/AFWERX programs allows those leaders to become connected to different sections of the tech startup ecosystem, ultimately bringing those connections and capabilities back to employ in their home units when they return.
Critical Thinking and Creativity at the User Level
While working for PeakMetrics I noticed that many analysts and users of their tool in the DoD had trouble articulating feedback, expressing gaps or issues in their workflow, and understanding the broader strategy or objectives aligned with bringing the tool into their office or unit. There were disconnects between the leaders trying to bring the tool into their organization, the tool developers, and the desired analyst end user. DoD users, and potential customers, need to be able to think more critically about gaps at the user level and not just from the level of strategic thinkers and planners.
Through Shift's curriculum, we were taught that innovation and problem solving are intrinsically linked to creativity. Encouraging creativity at lower ranks down to the potential users enables the conceptualization of solutions from the most vital individuals in the process. By giving those members the freedom to view their ideas as possible, think critically, and imagine possibilities, we connect strategy to user-level execution. For leadership, this means fostering a culture where analysts and lower ranking military members are encouraged to express their opinions, try out new ideas, and potentially fail without disciplinary action, if safe to do so.
Adjusting Pace in a Slow-Moving Organization
As virtually everyone within the DoD knows, progress is typically slow, as evidenced by the age-old phase "hurry up and wait!" Of course, this varies across units and organizations, but generally the levels of leadership approval needed, documentation and agreements that must be written and signed, and the turnover of often vital individuals in an organization mean that taking a project or product from early stages to completion can take a very, very long time. When I got to PeakMetrics, I had to immediately adjust my understanding of pace, responsiveness, and production. In many ways, pace is dictated by the team as a whole, so you must be in sync with your people at all times.
In the DoD, leaders are often so task-saturated that they are late to or miss their own meetings. This is partially because emerging demands from higher level leadership lead to getting out-prioritized last-minute. It is also because military awards are structured to reward the most massive and tangible impacts you can quantify in the shortest amount of time, usually a year or a quarter. Incentivizing impact in this way fosters a culture which prioritizes projects that are easy to understand and look good. Consequently, oftentimes the more complex and nuanced ideas with difficult to quantify yet exceptional impacts are left in the shadows. Additionally, this creates an issue of framing and "selling" the project correctly and it biases what our leaders and boards care about and choose to invest in.
Final Thoughts
As a leader in my respective field, the word I most want to use when describing my experience with Shift, AFWERX, and PeakMetrics is empowered. I was given the freedom to pursue projects I wanted, PeakMetrics trusted that my experience and expertise was relevant and valuable to the team, and I was able to see a tangible impact to my work in a very short amount of time, The innovative self I began to develop emerged from the environment I was immersed in and provided me the opportunity to perform in an impactful manner. Moving forward I believe that leadership should make every effort possible to try to create an environment which fosters creative thinking, innovation and an openness to change. For those of us leaving from Shift, many will have to start by creating that change at the lower levels; fostering innovation in our own units, getting connected with Spark Cells and innovation hubs, and empowering our people to drive the future changes necessary for the DoD to stay on top.
--
Captain Gabrielle Johnson is a U.S. Air Force Intelligence officer. She is currently in the role of Flight Commander in Honolulu, Hawaii where she leads teams and intelligence operations across Department of Defense Agencies and Air Force intelligence units.
Disclaimer: The views expressed are those of the author and do not necessarily reflect the views of the United States Air Force. The appearance of external links on this site does not constitute official endorsement on behalf of the U.S. Air Force or Department of Defense. The Air Force does not endorse any non-federal government organizations, products, or services.
Sign up for our newsletter
Get the latest updates and publishings from the PeakMetrics investigations team.