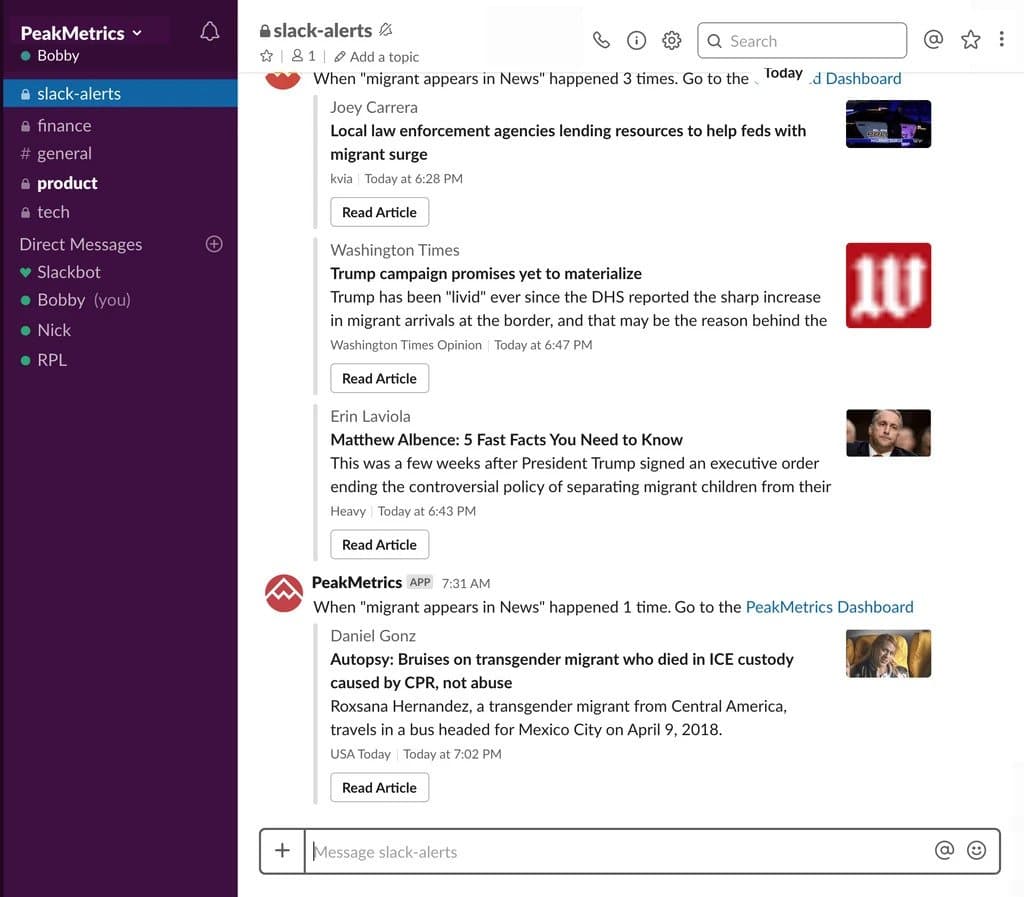 How to Get Google Alerts in Slack
Do you need to track and develop reports across news and socials? Check out this step-by-step guide on how to integrate Google Alerts with Slack.
Getting notified when someone mentions your brand online can be empowering. Receiving Google Alerts in Slack makes this even more efficient.
We've put together a guide to integrating Google Alerts with Slack. This can provide the data you need to optimize your campaigns and keep track of what your competitors are up to, and helps keep you updated on your PR impact.
Read our guide below, or check out the how-to video we made.
‍
Some prerequisites:
Get your company on Slack. Slack is the ideal communication tool for people who function in groups. This free (and freemium) tool enables your team to collaborate smoothly and without any hitches or delays.
Configure Slack to receive Google Alerts about your organization.
Some ideas for keywords to yield a rich mix of alerts: Your organization's name, keywords that distinguish your company, your industry, competitor's names, popular keywords related to your industry, and thought leaders within the industry.
Lastly, one of the most important steps is getting a Google account, and it's free.
When your account is ready, set your Google Alerts preferences.
This is what you need to do:
In the search bar where you find "Create an alert about...", enter your keywords or the phrases you want to be notified about.
Check the headings and content that populate under "Alert Preview." These should align with what you want to track.
Next, click "Show options" to set "How often" to "As-it-happens" - even though you might only get the notification when Google bots crawl the page.
Set "Sources" to "Automatic" so that it covers blogs, news, and the Web in general.
Set your language.
Choose your region.
For "How many," you could maintain the default "Only the best results" since changing it to "All results" might bring you irrelevant content.
In place of your email address under "Deliver to," select "RSS Feed" if you intend to use Slack.
When you're all set, click "Create Alert". Click the "RSS Feed" icon and copy the URL that it takes you to.
Next, we need to get this connected to Slack.
Start by visiting the RSS page in the Slack App Directory.
Click Install.
Then, click Add RSS integration.
Under Feed URL, paste the URL that you copied earlier. Pick the Channel where you want to receive alerts, then hit Subscribe to this Feed.
If you find that Google Alerts aren't powerful enough, you're missing mentions, or you need to track and develop reports across news, social, broadcast TV/radio and more - take a look at PeakMetrics.
With PeakMetrics, all of the above steps can be completed with two clicks using a Google Alerts to Slack integration -- and you'll also get powerful additional features, including analytics and insights.
Book a free, no-obligation demo with one of our team here to find out how we can work for you.
Sign up for our newsletter
Get the latest updates and publishings from the PeakMetrics investigations team.